National Federation of Independent Business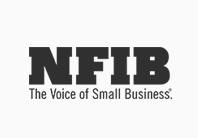 NFIB is America's leading small business association, promoting and protecting the right of their members to own, operate and grow their businesses. If you're an independent business owner, join NFIB today to enjoy exclusive member discounts, business networking opportunities in your local area, free HR support for your business and much more!
Check out NFIB's free online business resources, read about their latest advocacy efforts and discover how NFIB is working to protect the rights of small business owners coast to coast. Each day, they publish brand-new business resources to help you succeed and grow your business, including tips for business success, information on how the newest laws affect you, innovative business ideas and more.