Irrigation Association – The Recognized Authority on Irrigation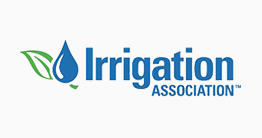 The Irrigation Association is the leading membership organization for irrigation companies and professionals. Together with their members, they are committed to promoting efficient irrigation and to long-term sustainability of water resources for future generations.
The IA is dedicated to promoting efficient irrigation technologies, products and services. The association serves its members and the irrigation industry by:
Educating the public on sound practices and water management.
Serving as a centralized clearinghouse for research and innovation.
Improving industry proficiency through continuing education.
Recognizing and promoting experience and excellence with professional certification.
Lending expertise to water-use public policy at the local, state, regional and national level.
Together with experts and stakeholders from industry, academia and the public sector, the IA works to:
Define best practices for effective water management.
Establish benchmarks and guidelines for irrigation products and applications.
Promote efficient irrigation technology and practices.
Advocate sound policies to ensure the availability, quality and conservation of water supplies.