Condray & Young Lawn Care Services In Topeka, KS
Mowing
Fertilization and Weed Control Packages
Aerating
Disease and Pest Control
Topeka Best Lawn Mowing Service
Condray & Young offers weekly mowing service for residential and commercial properties.  Every service comes with a 21 point checklist, this checklist is filled out by our skilled mowing technic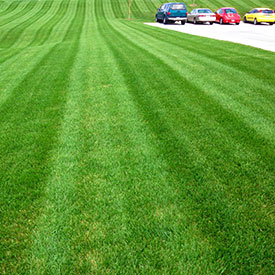 ians after each service.  Each of our crews is trained to mow every property to the highest quality.  Our equipment is maintained daily including blade sharpening to ensure the best cut.  We raise and lower our decks based on seasons to make sure your lawn stays healthy all year around.
Fertilizer and Weed Control Packages For Topeka, KS Residents
This is one of the most important steps if you want to obtain a green, lush, and healthy lawn. This process will also make the roots more powerful and your lawn thicker. Fertilization also keeps weeds at bay, nurturing the soil and offering the plants' roots the energy they need to grow and stay strong in adverse situations.
 Basic Turf Care Package
Step 1:  Early Spring Pre Emergent Application
Pre Emergent is a very important step for any lawn.  This application targets grassy weeds such as crabgrass.  Our service includes a liquid application to ensure all areas       of the turf are covered.
Step 2: Late Spring Fertilizer and Broadleaf Control
During this application a slow release granular fertilizer is applied.  The slow release fertilizer will feed your lawn over an extend period, which helps prevent rapid growth of the lawn.  A blanket application of liquid broadleaf herbicide will remove and weeds that have developed.  This herbicide targets weeds such as dandelions and clover, among others.
Step 3: Early Fall Fertilizer and Broadleaf Control
After a long summer, a lawn can be stressed.  This application of fertilizer will help get the lawn back on track.  Another spot treatment of broadleaf control to remove any weeds that established over the Summer months.
Probably the most important of all applications of fertilizer.  This application will help to feed the root system of your lawn during the winter months.  To have the most lush and beautiful lawn, it starts with the root system.  A deep healthy root system will lead to less watering during the hot Summer months, and less of a chance of weeds invading your lawn when it is stressed the most.
Expanded Turf Care Package
Summer Application: Application of Iron to keep your lawns green color lasting during the hot Summer months
Insecticide Application : Treatment for certain insects such as grubs that can damage lawns
Fungicide Application: During high moisture and high humidity lawns can develop many fungus' that can not only look bad but damage the turf
Post Emergent Application:  Stressed lawns can lead to grassy weeds taking advantage of areas of damaged lawns.  With our post emergent application we can target specific grassy weeds that make lawns less attractive.
Nutsedge:  A grassy looking weed that can develop anywhere in the lawn.  This weed has a yellow tint to it and can grow twice as fast as the turf.  A special herbicide to target this weed will help to eliminate it from your lawn.  Pulling this weed is not recommended, and will in fact make 2 more each time it is pulled.
Biting Pest/Insect Application:  From chiggers to ticks and mosquitoes, we can treat your lawn to make sure you are most comfortable after a day of enjoying it.
Hardsurface Vegetation Control:  Patios, sidewalks, parking lots; it seems as if a weed can grow anywhere.  We offer services to remove these weeds and with extended control keep them from coming back.
Additional Lawn Care Services
Overseeding: Typically done in the late Summer early Fall months, this service will fill in those bare spots.
Aerating: Compaction of turf areas can result in lawns stressing during the hot Summer months.  Aerating allows moisture and oxygen to reach the root system, along with reducing compaction.
De-Thatching: Lawns can build up organic matter resulting in moisture and nutrients not being able to get to the root system where they are needed.  De thatching will remove that layer helping the lawn to get all the necessary nutrients it needs to thrive.
Seeding:  Don't have a lawn, we can help.  We have all the proper equipment to install a new lawn.
Sod:  Instant lawn as we like to call it.  Sod can be used for problem areas, or can be installed on new lawn areas.
Lawn Renovation:  Does your lawn look tired, is the lawn rough?  Start over, grading and seeding or sod we can get your lawn back.
If you are interested in any of our lawn care services you can fill out the estimate request form above, or just give us a call.  We would love to give you a free quote on any of our services.